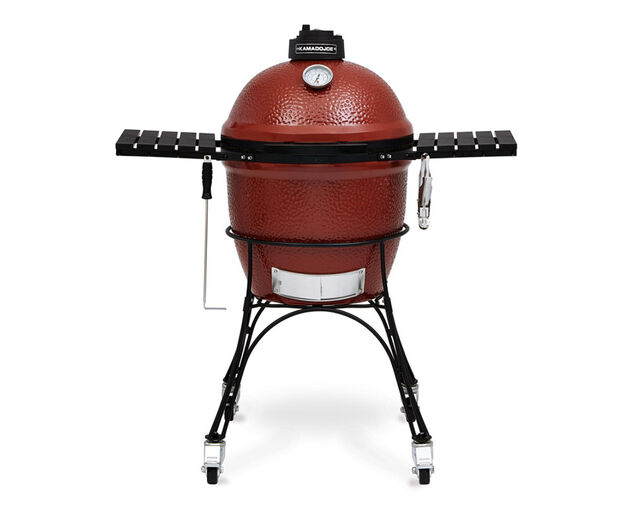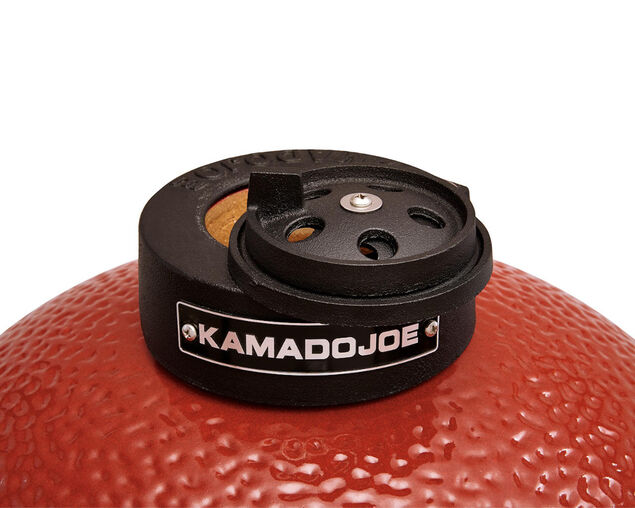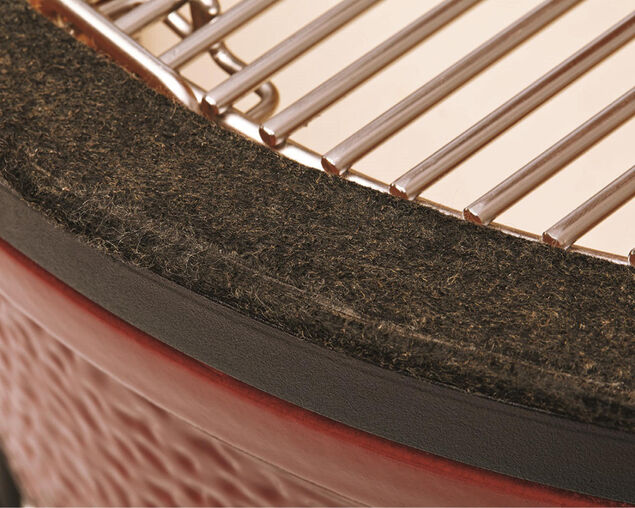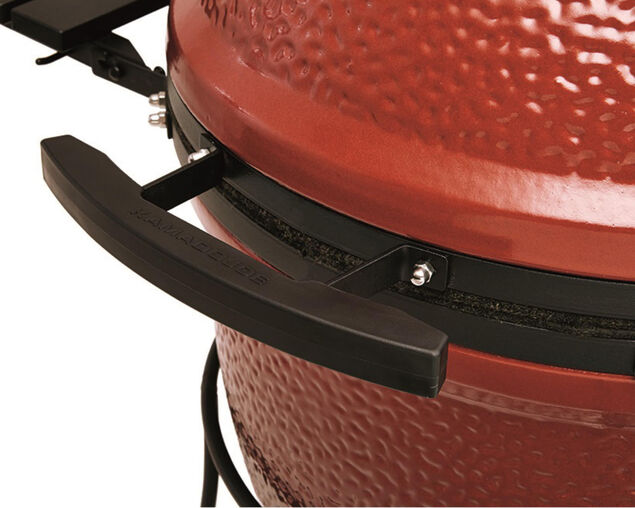 or buy now, pay later with
Available to Order In Store Now - This item is not available online for Click & Collect or Home Delivery, please contact your nearest store for availability and to secure yours today.
Please select from the product options to display the delivery and availability information. Example: Select your cart, burners and or colour.
The Kamado Joe Original is a grill, a smoker, and an oven, all rolled in to one. Constructed of high-fire, heat-resistant ceramic, the Kamado Joe Original's ability to insulate means less total heat is required to cook your meal. By locking the heat into the grill, and providing uniform cooking heat thanks to its brilliant circulation, the Kamado Joe Original keeps the moisture in the meat, so you're left with juicy cuts, cooked to absolute perfection.
A top vent in the lid allows you to control the cooking temperature in two ways. Temperatures from 80 to 400 degrees Celsius can be achieved and maintained by adjusting the top vent, and the sliding draft door, while the extra-large, and easy-to-read built-in thermometer makes keeping an eye on your temperature a breeze.
The Kamado Joe Original comes with a heavy-duty grill stand with folding high density polyethylene (HDPE) side shelves, and oversized locking caster wheels for easy manoeuvrability, as well as stability. Also included in this great package are a grill gripper, and an ash tool. The Kamado Joe Original comes with a limited lifetime warranty.
Premium 18" ceramic grill
Cast iron top vent for temperature control
Thick-walled, heat-resistant glazed exterior shell that locks in smoke and moisture at any temperature
304 stainless steel draft door for easy cleaning
Built-in thermometer for precise temperature control
Finished folding HDPE side shelves/handle
Cast-iron rolling cart with locking wheels
Grill gripper and ash tool included
Locks in smoke and moisture at any temperature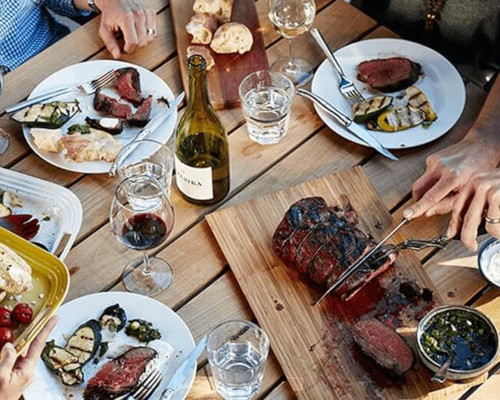 Superior Taste
Kamado Joe grills make food taste better, because they are ceramic and act like an insulator to retain your food's natural oils and moisture content. Meaning, it makes food incredibly juicy and tender. Kamado Joe grills also only use 100% natural lump charcoal. This infuses a true charcoal flavour similar to cooking over a wood fire. Metal grills radiate heat which can pull the moisture out of food, and briquette charcoal contains additives like borax, starch, sawdust from waste lumber and "instant light" fuel.
Ready to Cook in 15 Minutes
A common misconception is that Kamado Joe grills take a long time to heat up before you can cook on them. The truth is that Kamado Joe grills are ready in as little as 15 minutes! The average time it takes to preheat a gas grill. Don't confuse these grills with the briquette charcoal grills, which can take more than 30 minutes to heat up.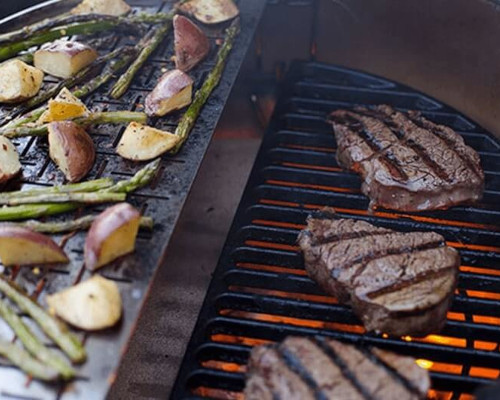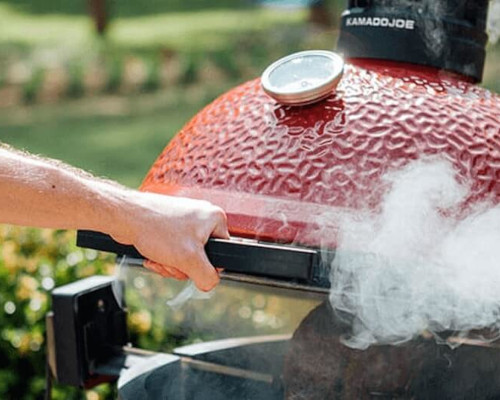 An Oven, Stove, Grill and Smoker
Kamado Joe grills allow you to smoke, bake, roast, grill and sear with a simple adjustment to the air flow and by using either direct or indirect heat. Not to mention a cooking range of 225°F to over 750°F, which most grills cannot achieve. The bottom line is that you can cook anything on a Kamado Joe - it's an oven, stove, grill, smoker all rolled in one.
Built to Last a Lifetime
Kamado Joe grills' ceramics are backed by a 20-year guarantee. It also uses 304 stainless steel, powder coated 304 stainless steel, powder coated cast iron and finished natural bamboo for the hardware and accents. This means that these grills are built to resist the elements in even the most demanding climates. Other ceramic grills use cold rolled steel, painted steel and cypress.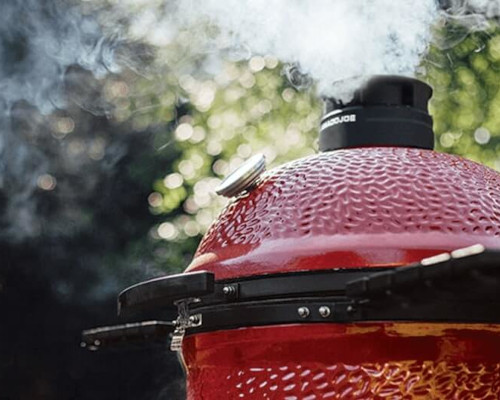 Specifications
Key Specs
Warranty
5 Years on Metal Components, 3 Years on Heat Deflectors, 1 Year on Thermometer
Dimensions
Dimensions: Height
1362mm
Primary Cooking Area Dimensions
45.7cm Diameter
Material
Cooking Grill
Stainless Steel
Wheel Type
2 Castors and 2 Wheels
Functions
Temperature Gauge
Analogue
Warranty
Warranty
5 Years on Metal Components, 3 Years on Heat Deflectors, 1 Year on Thermometer
Warranty On Firebox
Limited Lifetime Warranty
Manuals
Product Manuals
Kamado Joe Original Red Manual