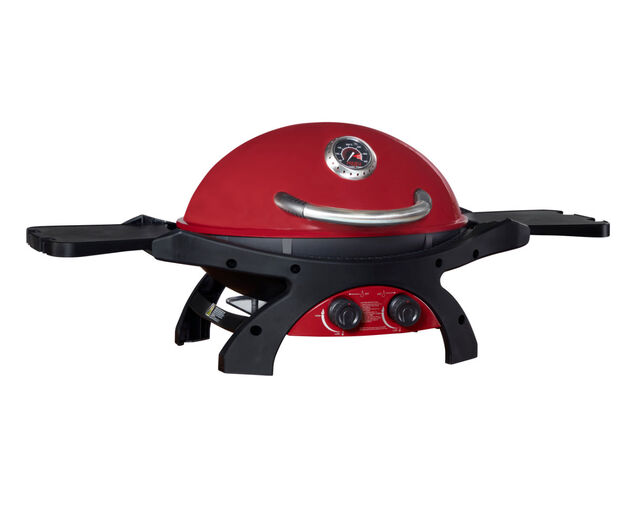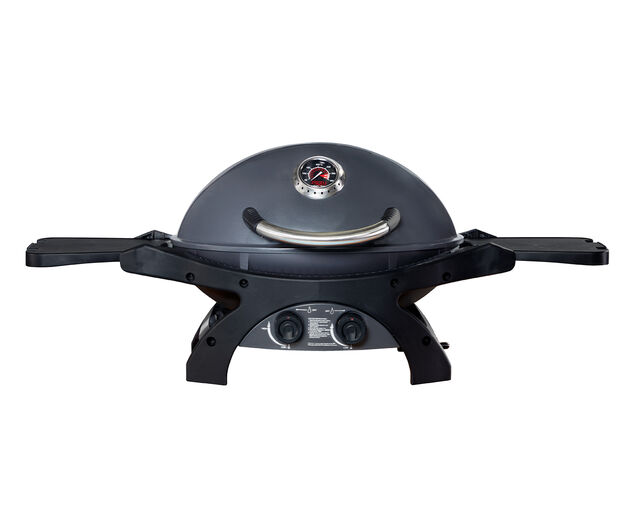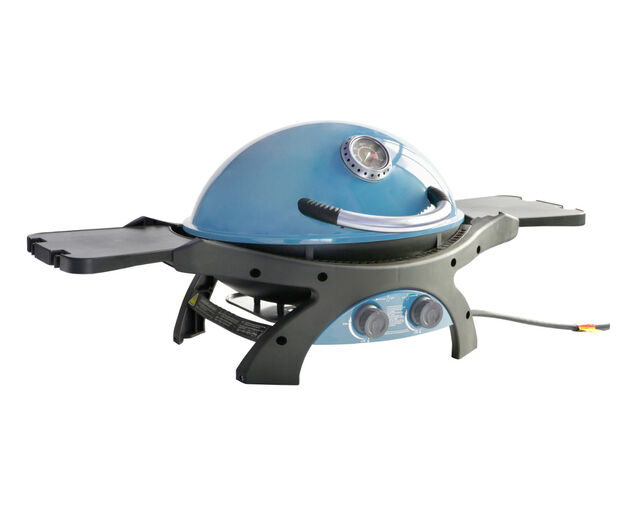 or buy now, pay later with
Available to Order In Store Now - This item is not available online for Click & Collect or Home Delivery, please contact your nearest store for availability and to secure yours today.
Please select from the product options to display the delivery and availability information. Example: Select your cart, burners and or colour.
Delivery Options
This item is not available for Delivery
The Ziggy by Ziegler & Brown Twin Grill offers superior quality and performance, in an innovative and portable package.
This high-performing compact BBQ, will impress your guests anywhere from the backyard to an inner-city balcony. This stylish barbeque delivers outstanding power with the flexibility to cater for an intimate dinner or a crowd of friends. With easily removable burners, cleaning your Ziegler & Brown Ziggy Grill is a breeze, it's as easy as Lift, Pull & Clean. Available in 3 stylish colours, your Ziggy Grill will stand out from the crowd!
Experience the versatility of two independently operated stainless steel burners and a massive high-domed hood that can be used both open and closed! Leave the hood open for a mixed-grill feast or succulent seafood. Close the hood for easily controlled baking and roasting – perfect for pizzas and cakes and large enough to handle a standing rib roast or even a whole turkey! The temperature gauge built into the roasting hood ensures a consistent cooking temperature. Use one or both burners for powerful direct grilling or use just one burner for indirect roasting. Cook smaller meals using just one burner and save on gas!
Made from cast iron with a matt vitreous enamel finish, both cooking grills are easy to handle and dishwasher safe. The grills come in two halves that can be replaced with optional accessories. The optional reversible hotplate features one smooth side - ideal for frying up pancakes, eggs and bacon; and a griddle side - perfect for cooking fatty meats like sausages and chops ensuring oils don't fall directly onto the burners, causing potential flare-ups. The optional cart features a specifically designed storage area for the reversible hotplate.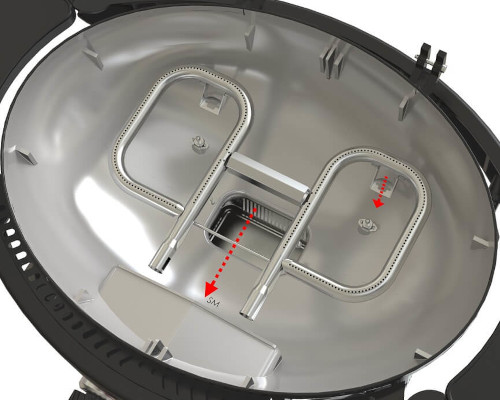 Easy To Clean Removable Burners
With removable burners, cleaning your Ziegler & Brown Ziggy Grill is a breeze, it's as easy as Lift, Pull & Clean.
High Domed Hood
The high domed hood on the Ziggy Grill is perfect for roasting. It's even big enough to roast a whole turkey!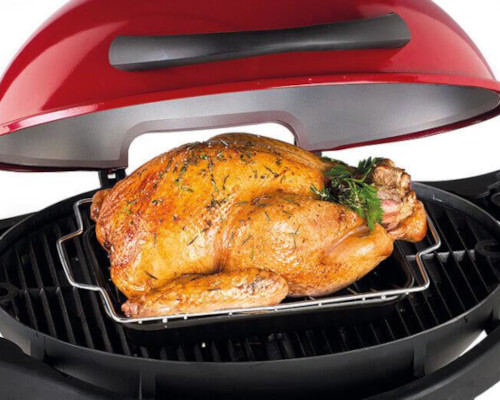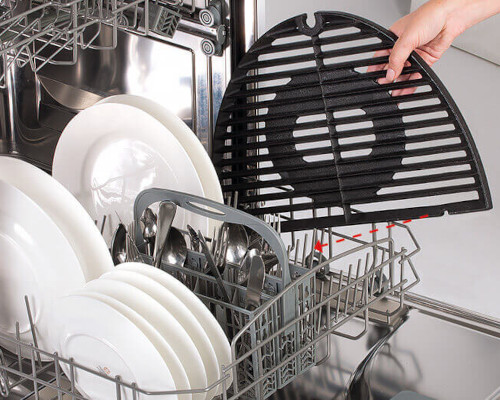 Dishwasher Safe Grills
The Ziggy Grills are made with vitreous enamelled cast iron and are dishwasher safe. Simply place your grills in the dishwasher to remove all the grease.
Easy Access Drip Tray
Easy access to the drip tray from the back of your Ziggy Grill ensures you can easily clean out the mess and get to cooking faster.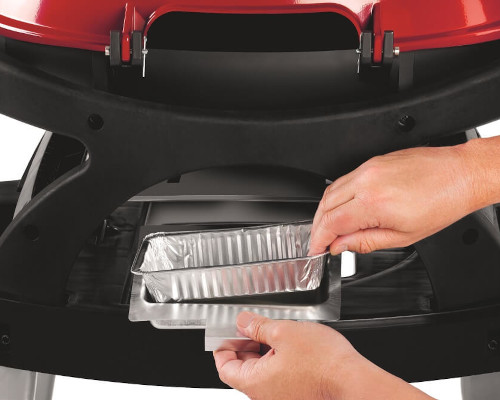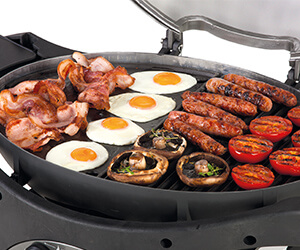 Large Primary Cooking Area
This Ziggy Grill holds a small footprint, but with the large grill surface area, you can easily cook for 6-8 hungry guests.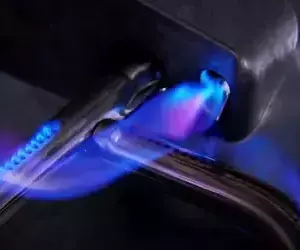 Reliable Flame Thrower Ignition
Light any burner, first time, every time with an independent flame thrower ignition on each main burner.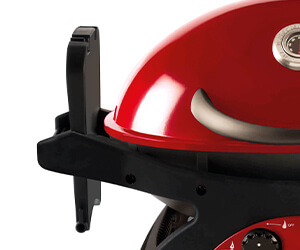 Built-in Easy Folding Side Shelves
Easily store your Ziggy Grill away when not in use, the folding side shelves allow you to neatly stack the BBQ away in small spaces.
Optional Features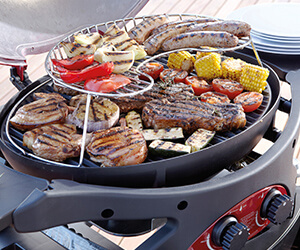 Warming Rack
The Ziegler & Brown warming rack is made from grade 304 stainless steel, the optional warming rack fits over the grills, optional hotplate or baking dish. Use it with the hood open to keep barbequed food warm, or close the hood and use it for extra cooking space. You can even stack cooked food on it to significantly increase capacity.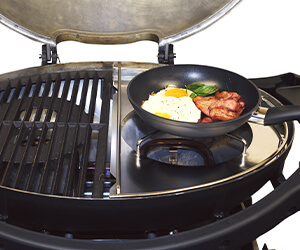 Trivet
Designed specifically to replace one half of the cooking grill, the trivet sits in the firebox and acts as a holder for pots, pans and woks. The stainless steel trivet is also reversible; For smaller pots use the built in recessed holder or turn it over to use with larger pots and woks.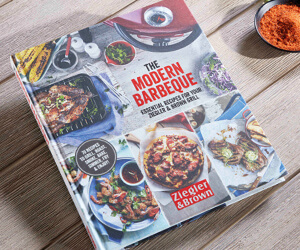 Modern BBQ Cookbook
Ziegler & Brown and Barbeques Galore have partnered to produce a visually beautiful 192 page Modern Barbeque Book. The Modern Barbeque cookbook, will change the way you barbeque with the Ziegler & Brown Grill. The Ziegler and Brown Grills are so versatile they adapt to any meal idea!
Specifications
Key Specs
Assembly
Assembly Required
Warranty
7 Years Comprehensive Warranty
Dimensions
Dimensions: Height Hood Closed
462mm
Dimensions: Height Hood Open
813mm
Primary Cooking Area Dimensions
1860 cm2
Functions
Main Burner Ignition
Flame Thrower
Main Burner Megajoules (Each)
9.05Mj
Natural Gas Conversion Available
true
Temperature Gauge
Analogue
Warranty
Warranty
7 Years Comprehensive Warranty
Manuals
Product Manuals
Ziegler & Brown Twin Grill Manual