Design Your Ideal Outdoor Kitchen
Perfect for Entertaining with Alfresco Kitchen Co
Alfresco Kitchen Co
Discover the exceptional design, quality, style, functionality, and versatility of the Alfresco Kitchen Co outdoor kitchen range. Bring your dream outdoor kitchen to life by mixing and matching a premium assortment of cabinets, door colours, benchtops, and top-of-the-line appliances.
With limitless options to suit every budget and alfresco area size, you can create a truly personalized outdoor kitchen that seamlessly integrates with your outdoor living space. Explore endless possibilities to customize your outdoor culinary experience, ensuring the perfect blend of style and functionality for unforgettable gatherings and celebrations.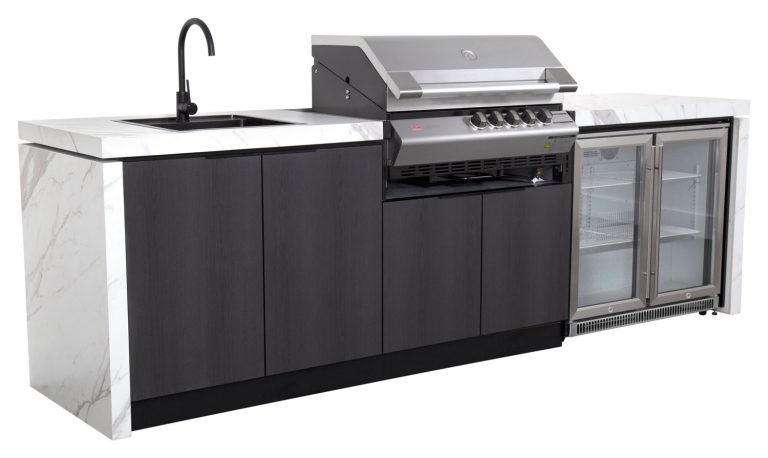 Step 1: Pick your BBQ
Barbeques Galore have a great range of Built-In BBQs that you can choose from for your outdoor kitchen. Each BBQ in the range has it's own BBQ module that it is built into. Once you have decided on which BBQ you want, you can then start designing the rest of your outdoor kitchen.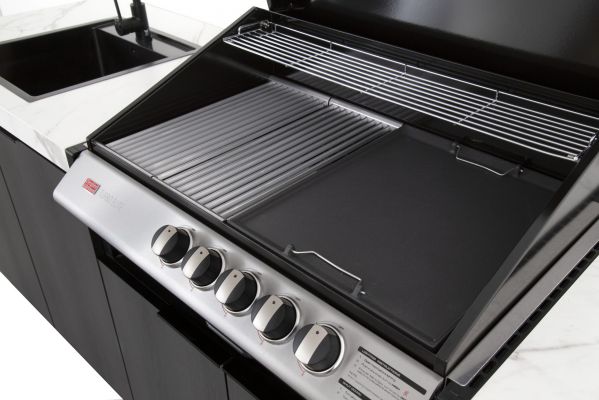 Step 2: Pick your Modules
The Alfresco Kitchen Co cabinet range is impressive. You can design your dream kitchen by choosing from a range of cabinets to adapt and tailor to your very own liking.
There are single and double storage, sink, fridge and drawers modules in the Alfresco Kitchen Co range to choose from.
The BBQ modules are specifically designed to suit a selected range of built-in BBQs available at BBQs Galore. The BBQ modules have an air frame, which is a thermal heat and fireproof shield between the BBQ and the cabinetry. They also feature vents in the cabinets to comply to Australian standards for LPG cylinder storage.
The sink module comes complete with a black stainless steel sink and matte black wells rated tap.
The fridge module also features vents to allow plenty of air ventilation.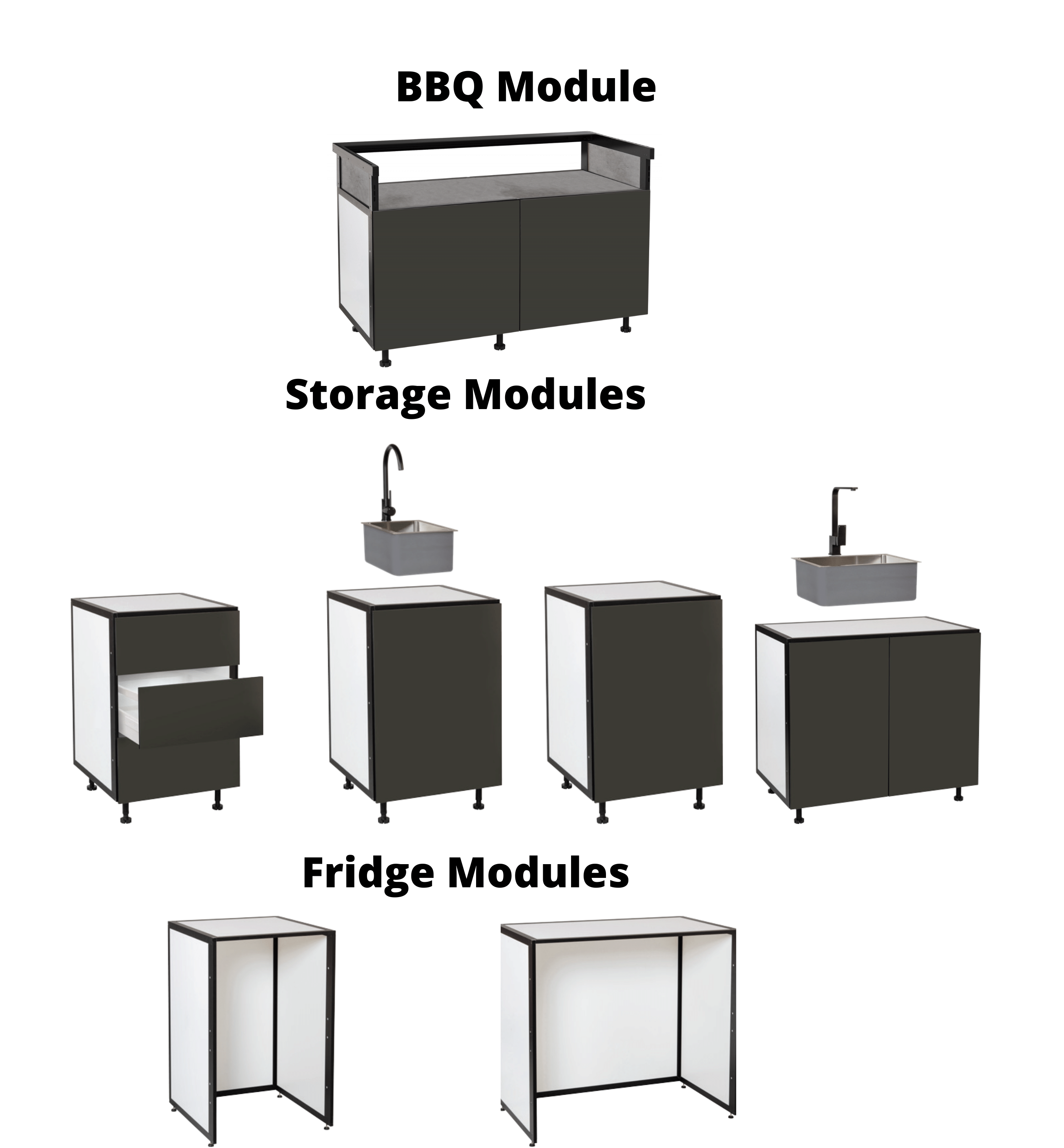 Step 3: Pick your Benchtop, Waterfall and Door Colour
Once you have decided on what modules you want in your outdoor kitchen, next next stage is to choose your colours.
The porcelain bench tops and waterfall ends complete the outdoor kitchen set up. The porcelain bench tops offer high UV resistance, are heat, scratch and stain resistant and are available in four sizes and three colours being Platinum White, Luna Gray and Eclipse Black.
There are three door colours available, which are Empire Oak, Prime Oak and Stone Gray. All door and drawer hardware has soft closing features.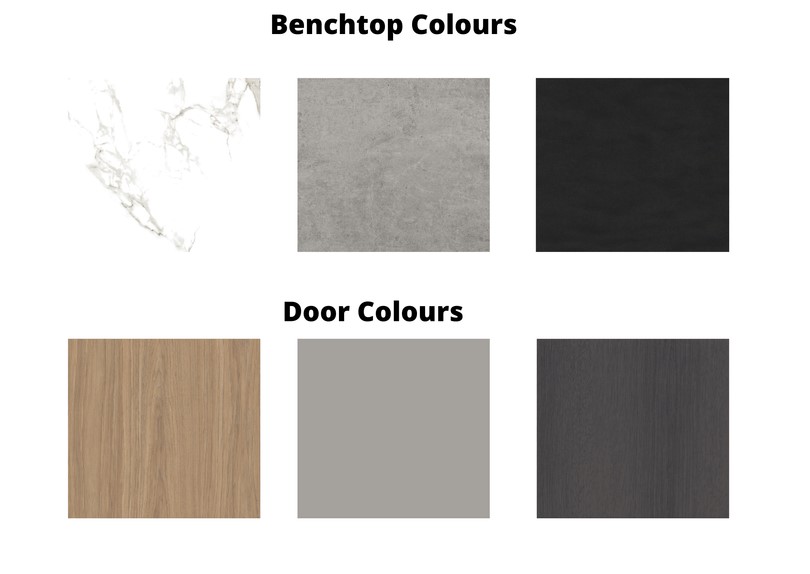 Step 4: Start Designing
To help you bring your dream project to life use our 3D planner to design your outdoor kitchen.
Explore different BBQs and Fridges, together with bench top and door colours. You will be able to see exactly what your outdoor kitchen will look like, and you can experiment until you are completely happy with your design. Use our 3D planner here
Please note: 3D Planner is not suitable for mobile devices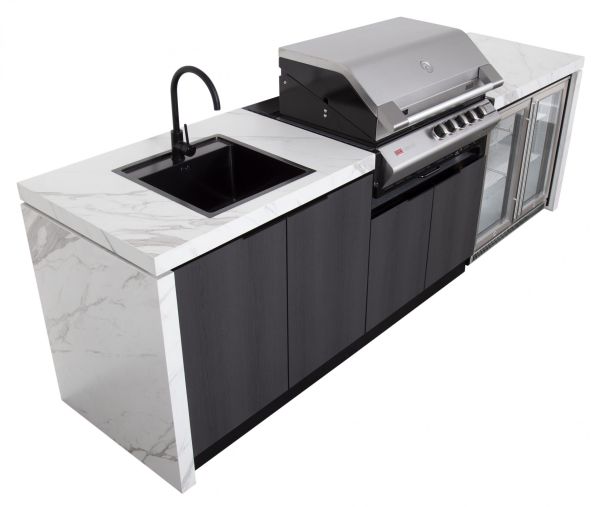 How To Order
Order your dream Alfresco Kitchen Co outdoor kitchen at any Barbeques Galore store.
Your order will include an initial $185 site inspection prior to goods being finalised & delivered. Included in the service is installation of your new outdoor kitchen which includes the assembly of cabinetry & installation of BBQ and fridge if applicable. Conversion to natural gas or plumbing connections is not included and will need to be completed by a licensed plumber organised by you.
At any stage during your design process, if you have any queries, contact your local Barbeques Galore Store.
On display at the following Stores