Heating by design style
Let's start out with your personal style preference. A wood heater is often, but not always, a central component of your home. So why not select one that will complement the décor of your home? Do you like the functional modern look, or prefer a touch of old world charm? Maybe you love clean minimalist lines, or find homely and traditional more your style.
You'll be able to find our indoor wood heaters classified into four main design styles – Modern mainstream, Traditional simplicity, Rustic charm and Sleek design. Whether classic or designer, contemporary or traditional, you'll be able to find a style that will complement your home.
Within the external design styles, there is also the option of a freestanding or inbuilt wood heater. Within your choice of inbuilt or freestanding heaters, you'll be able to choose the heating style suited to the space and heat coverage you need.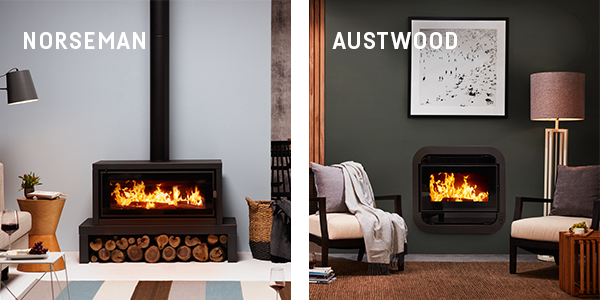 Inbuilt Wood Heaters - Inserts or Zero Clearance
Inbuilt wood heaters are designed as a modern energy-efficient alternative to an open brick fireplace. This style of heater lets you can enjoy a warm room instead of the heat being channeled through the chimney. If your home has an existing brick fireplace, you'll be able to upgrade with an inbuilt insert heater.
However, if you love the look of a built-in fireplace but don't have an existing brick fireplace, you can consider a zero clearance heater. A zero clearance box will enable you to easily transform any blank wall with minimal structural impact that allows you to build within a combustible wall or framework. This gives you the flexibility of positioning your heater as your room centrepiece, while maximising heat distribution and airflow.
Freestanding Wood Heaters
If you don't have an existing fireplace, a freestanding wood heater is ideal. The design of freestanding wood heaters have come a long way from the classic old-fashioned wood stoves. With a choice of modern, sleek, rustic or traditional designs, your freestanding wood heater can create a cosy focal point for your living space with very little structural work involved in the installation.
Heater Types to Suit your Home Size
For the practical considerations of selecting a wood heater, it's important to identify the size, space and layout of your home. This can help you decide on what type of wood heating style and the suitable heat coverage. For example, if your home is well insulated, or if you will be using other types of heating appliances in addition to a wood heater, then you may not need a powerful heater.
Convection Heaters
Convection wood heaters are designed with an air cavity between the firebox and the outer skin. This means that as the wood is burning, the air in the cavity heats up, expands and rises. The convection outer casing on the heater then draws more air in from the bottom, forcing the warmed air out of the top of the heater. A good clean burning convection heater can produce over three cubic metres of heated air per minute. This makes convection heaters ideal for various sized rooms or homes with standard ceiling heights.
Radiant heaters
Unlike convection heaters, radiant wood heaters have all sides of the firebox exposed. This enables the heater to radiate heat at a stable rate. Radiant heaters are specifically designed for heating homes with high ceilings and large open areas, including expanded living areas or open plan homes.
Wood pellet heaters
Wood pellet heaters are a great choice if you want to enjoy the warm soft heat of a wood fire without the hassles of splitting and stacking wood. Perfect for small to medium sized rooms, it generates a constant heat output without the peaks and troughs. It is also an energy efficient, clean, convenient and environmentally friendly option that uses pellets instead of firewood. The pellets that are burned in this type of heater are made of dense recycled sawdust.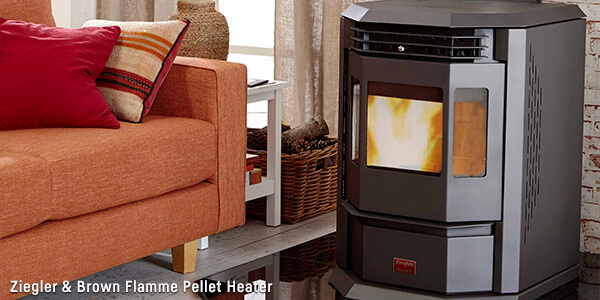 Certified Wood Heaters
Not all wood heaters are created equal. While you'll find that there are plenty wood heater designs to choose from if you're shopping online, you'll need to check that the heater you want to purchase complies with the Australian Standards AS/NZS 4012, 4013 and 2918. Compliant heaters means that they are specifically designed for Australian conditions and Australian firewood. You can easily check for this certification on the Australian Home Heating Association website, or if you're browsing in-store, look for the Compliance Plate displaying AS/NZS 4012 or 4013.
Installing a Wood Heater
Once you've got an idea of the perfect heater, the next crucial consideration is the installation process. Wood heaters need to be installed according to the Australian Standard AS/NZS 2918, specific manufacturer's instructions and your local building regulations. Even if some aspects of installation looks simple, such as an insert heater in an existing fireplace, it is strongly recommended that you have your heater installed by a qualified professional.
A qualified installer will be able to run through with you the installation conditions based on your type of home, as well as any insurance disclosure requirements should this be a first time installation.
A single level home could mean a standard single storey install for your heater, a 45 degree wall penetration, cathedral ceiling install or an insert installation. If your home is double-storey, you could choose to have a floor penetration, cathedral ceiling install, a 45 degree wall penetration or an insert installation. Each installation type will help determine the type of components needed for your wood heater.